New to Indoor Cycling? Peloton Is For You.
You won't be a beginner for long.
By Lucy Maher•Updated 25 August 2020
Just getting started with your Peloton Bike? Check out our Mastering the Basics and Welcome to Peloton Cycling Programs to set yourself up for success!
Given her confidence and skill on the Bike, it might be hard to believe that Peloton instructor Tunde Oyeneyin once battled her weight and found exercising difficult.
"I struggled with my working out and wellness for many years before I was finally able to make the commitment," she says. "I was intimidated and overwhelmed by the idea of group classes and confusing gym equipment. At first, I pretty much mimicked anything I saw 'fit people' doing at the gym in addition to whatever my athlete brother recommended. But when I committed, and I mean when I truly committed to starting, I never looked back."
Oyeneyin's journey is like that of a lot of people who have a stop-start relationship with exercise before maintaining a sustainable workout regimen. Some discover that they need their workouts to be fun and engaging, while others find intensity is the thing that drives them to do it again and again. Indoor cycling ticks both of those boxes, and is especially beneficial for people who are new to exercise or who need to avoid injury.
"Anytime you can safely increase your heart rate without too much impact on the joints is a win," says Dr. Charles Richardson, chairman and president of TransWorld Med. "Running, in comparison, is a very high-impact cardio exercise. Indoor cycling provides you the ability to keep the body and heart in great shape without the hardships of concrete beneath your feet or an intense sport that can lead to injury."
Oyeneyin says the wide range of classes make the Peloton Bike in particular a good option for someone who has never before cycled. In addition to strength training, yoga and walking classes available on the Peloton platform, there are short, entry-level cycling classes in which she and other instructors guide riders who are new to spinning.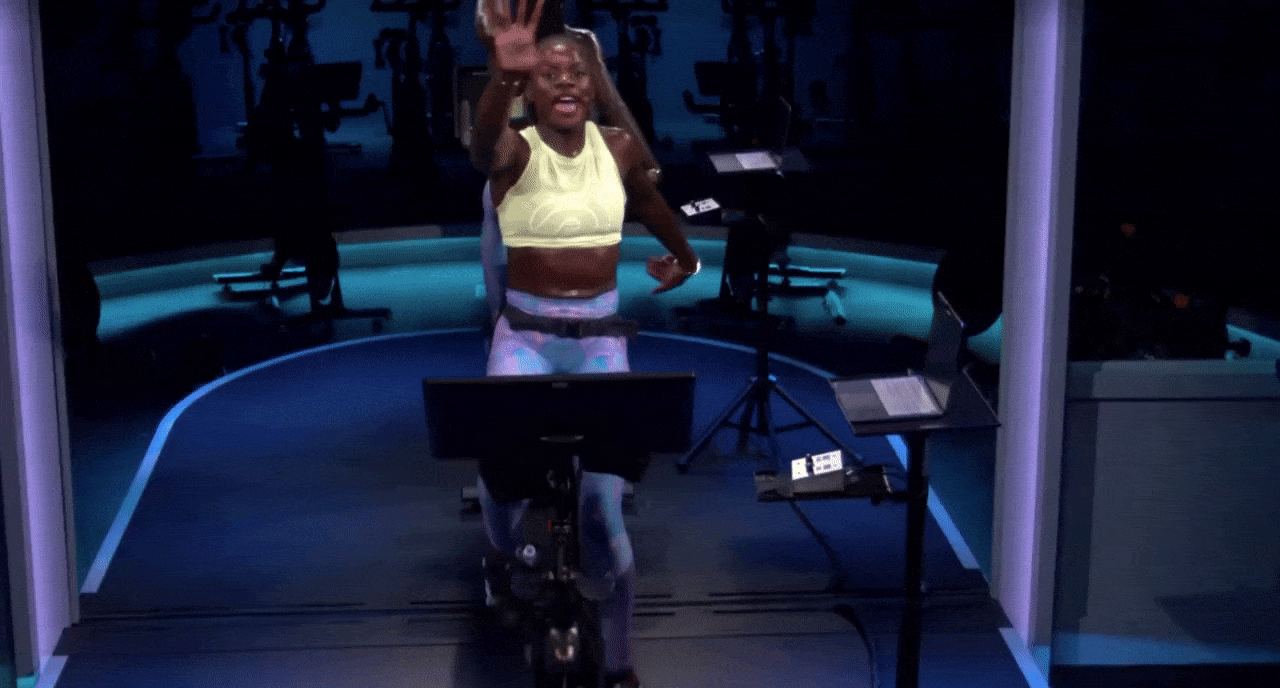 "The beauty of Peloton is that we take the guesswork out of it," she says. "You clip in and from there our team of elite instructors cover the rest. I'd recommend starting with a beginner ride regardless of your skill level or experience. The beginner ride will allow you to become better acclimated with the Bike, the metrics and the touchscreen. From there I'd move into a music-first ride such as an '80s ride or pop ride depending on your musical preferences. You are able to search classes by duration so I'd start with a 20-minute ride and build from there. Once you're feeling confident I'd recommend moving into the more challenging fitness-first rides like HIIT and Hills."
While it may take time to ramp up to longer, more intense rides, what you may discover immediately is what Dr. Richardson calls "a rush" which plays a part in your motivation to exercise.
But what also makes the Peloton Bike addictive is the sense of community gained by logging on and riding with hundreds of others. Many riders have taken this a step further and connected on social media and in-person gatherings both local to them and at the studio in New York City.
"When I began my journey with fitness, working out at home was limited to VHS tapes, and believe me I tried them all," says Oyeneyin. "I was able to get in a sweat, but I didn't feel any sense of community. Peloton isn't just a home workout. It's a connectivity portal. The Leaderboard allows you to connect with people that you perhaps otherwise because of social, geographic or economic differences may not have. As an instructor, I'm constantly in awe of the friendships that have been formed via the tablet."
If you end up avidly riding, it's important to do so safely so you avoid injury that could keep you off the Bike. One way to do this?
"S-T-R-E-T-C-H," says Oyeneyin. "As my teammate Hannah Corbin says, 'Did you stretch tho?' If you have twenty minutes to ride you can most certainly find five minutes to stretch. That's my motto. We offer a variety of stretching classes on the App. Whether you've got five minutes or twenty minutes we have you covered. And as my mother would say, hydrate. I come from a Nigerian household so water is always the answer."
We'll water-bottle cheers to that.